WHAT IS THE NRHA NOMINATION PROGRAM?
• In order for horses to be eligible to enter and show in the NRHA North American and/or European Futurity and Derby they must be nominated and/or optioned into the applicable NRHA Nomination Program.

• The nominator of the horse listed on the nomination form can never be changed.

• There is the North American Nomination Program, designed for horses intending to enter the North American Futurity and/or Derby, and the European Nomination Program designed for horses intending to enter the European Futurity and/or Derby.

• There is an "option" fee available for horses when nominating so that the horses can be entered into both the North American and European Programs.

• The nomination DOES NOT enter them into the Futurity and/or Derby; it makes them eligible to enter.

• When entering and competing at the Futurity and Derby if the horse wins money in those Futurity or Derby classes, the nominator will receive 5% of the winnings, even if they no longer own the horse.

• There can only be ONE member ID number associated with the nominator position, and that number can belong to anyone, it does not necessarily have to be the owner.

• Any horse can be nominated.

• Copies of the registration papers do not have to accompany the nomination form at the time of nomination, however they will need to be sent in when they are obtained (if grade then four color photos, one of each side of horse) to complete the competition license, on of which proof of nomination will be listed.

• The Competition license MUST be paid at the time of nomination if horse is not already licensed.

• A $10 handling fee will be applied to any nomination not completed online at nrha.com. This fee will be applied to each individual nomination.

• Starting October 1, 2020, faxed or emailed nominations will not be accepted. Forms can be mailed to NRHA or completed online by logging onto your account at nrha.com.

• Nominators must be current members of NRHA at the time of nomination.

• The cut-off for nominations is JANUARY 10th

• If nomination of weanling or yearling is received after January 10th but on or before January 31st, there is a late fee equal to that of the nomination (Ex. 2015 Weanling nomination is received January 11th of 2016, full fee for nomination is $600 ($300 nom fee and $300 late fee)).


WHAT YOU NEED TO NOMINATE
• A Current NRHA General, Non Pro, Professionals, or Youth membership

• Nomination form filled COMPLETELY OUT for each horse being nominated

• Nomination fees (valid CC's, check, cash, or wire transfer with certificate of success)

• Competition License fees

• Starting in 2016, payment for $10 handling fee if submitting nomination in any way, shape, or form to NRHA. Nominations processed using the online nomination process will not have this fee (link at top of page)

• JANUARY 10th is the cut-off for nominating.

• Late fees will be applied if nominating after January 10th, please see conditions for full payment breakouts.

Competition Licensing:
Registration papers are required to get the competition license and will have proof of nomination on them. A horse can still be nominated WITHOUT the registration papers; they will just appear as pending in the system until a COPY of the papers is received.

If grade:
Four color photos (one of each side of the horse) plus a completely filled out competition license form must accompany nomination form for the license or be sent in when the license is being obtained.

It is important that each nominator reviews the nomination conditions before signing the form.

---

Still have questions? Contact the NRHA Office (405) 946-7400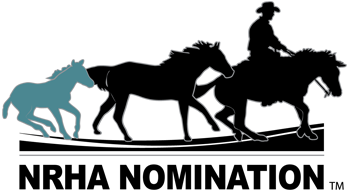 NOTE: $10 Handling Fee PER NOMINATION if form is submitted, NO FEE WITH ONLINE PORTAL
---
Lists of NRHA Nominated Horses
Click on the links below to view nominated foals. The lists are organized by the year the horse was foaled, not by the year the horse was nominated. If your horse still shows to have a pending name, please submit a copy of the breed papers with the correct owner listed to
nominations@nrha.com
or mailed to 3021 W Reno Ave, Oklahoma City, OK 73107.
Note: If horse is optioned then it will appear in the original programs list with a "yes" in the option section. It will not appear on both lists.