NRHA Handbook
NRHA Members: If you wish to have a copy of the Handbook mailed to you, please fill out our
handbook request form
.
To view the current NRHA Corporate Record Book which includes policies and Board Resolutions, visit the
Members Only
section.
Download the entire 2019 NRHA Handbook
2020 NRHA Handbook
//
2020 NRHA Pattern Book
Revised Feb. 2019 – The following pages have been updated: Page 48 (Event Classifications), 91 (use of hands on reins), 95 and 144 (two-point reviews), 159 (Freestyle time limit), and eligibility policies. These updates are shaded in blue for your convenience.
---
2019 Handbook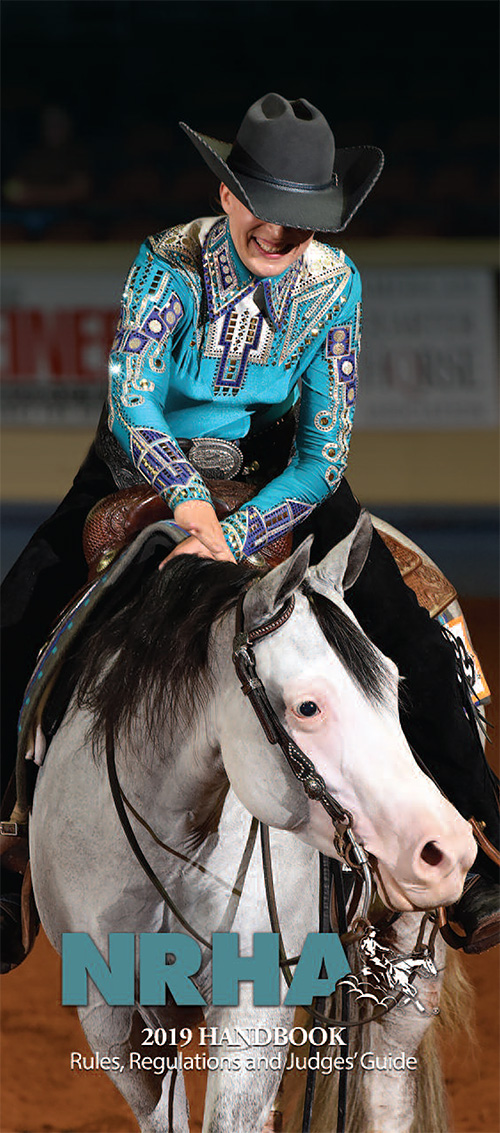 BYLAWS
GENERAL RULES AND REGULATIONS
A. Rule Change Procedures (7)
B. Affiliate Compliance (7)
C. International Affiliate Program (8)
D. Disciplinary Procedures (9)
E. Causes For Disciplinary Action (13)
F. Causes for Disciplinary Action (Protest or complaint not required) (14)
G. Animal Welfare and Medications Provisions Applicable to all NRHA Events (16)
SHOW RULES AND REGULATIONS
A. Membership (29)
B. Non Pro Conditions (31)
C. Competition Licensing (36)
D. Categories of Competition and Class Eligibility (37)
National Federation (43)
E. Unapproved Classes (45)
F. General Show Conditions (45)
G. Event Approval (47)
NRHA Payback Schedules A & B (54)
Worksheet for NRHA Paybacks (55)
NRHA Youth Point Scale (56)
H. Ancillary Show Conditions (56)
I. Aged Show and Closed Aged Show Conditions (57)
J. Jackpot Affiliate Show Conditions (59)
K. Entry Level Ride & Slide Show Conditions (60)
L. Green Level Show Conditions (60)
M. Para-Reining Show Conditions (61)
N. Trophies & Awards (62)
O. Ties (62)
P. Show Results (63)
Q. Year End Awards (65)
NATIONAL REINING HORSE YOUTH ASSOCIATION BYLAWS
Article I. NRHYA Youth Mission Statement (69)
Article II. Title, Objectives, Location (69)
Article III. NRHyA Executive Committee (69)
Article IV. Election of Officers (69)
Article V. Duties of Officers (70)
Article VI. General Governance (71)
Article VII. Membership Meeting (72)
Article VIII. Membership and Regions (72)
Article IX. Removal of Officers (72)
Article X. Amendments (72)
YOUTH SHOW RULES AND REGULATIONS
A. Membership and Show Conditions (75)
B. Approved Youth Reinings (76)
C. Year-End Awards (76)
SHOW STEWARDS
A. Stewarding Privileges (77)
B. Duties of the Show Steward (77)
FREESTYLE REINING
A. General Rules (81)
B. Judging of Freestyle Reining (82)
JUDGES
A. Judging Privileges (85)
B. Judges Committee (85)
C. Judges Monitor (86)
RULES FOR JUDGING
A. General (89)
B. Scoring (89)
Patterns (101)
JUDGES' GUIDE
General Judging and Scoring Guidelines (133)
Penalty Application (134)
Pre/Post Check (135)
No Scores (136)
Penalty Score Zero (138)
5 Point Penalties (140)
2 Point Penalties (141)
Lead Penalties (142)
Jog Penalties (143)
Simple Lead Change Penalties (143)
Spin Penalties (143)
Wall Penalty (144)
Center Penalty (144)
Reviews (144)
Maneuvers (145)
Pattern Descriptions (147)
A. Scoring (153)
B. Maneuver Scores (154)
C. Misconduct/Re-Rides (155)
D. Reports/Conduct (155)
FREESTYLE
A. Score Card (157)
B. Scoring/Penalties (158)
JUDGING DIAGRAMS
Figure 1. Bit Measurements (163)
Figure 2. Bit Measurements (164)
Figure 3A. Over/Under Spin Penalty Application (165)
Figure 3B. Lead Departure Penalty Application (165)
Figure 4. Out of Lead/Delayed Change Penalty Application (166)
Figure 5. Jog Penalty Application (167)
Figure 6. Out of Lead on Run-Around Penalty Application (168)
Figure 7. Out of Lead on Partial Circle Leading to Run-Down Penalty Application (169)
Figure 8. Sample Score card (170)
Figure 9. Sample Freestyle Score card (171)
NRHA ELIGIBILITY POLICY (171)