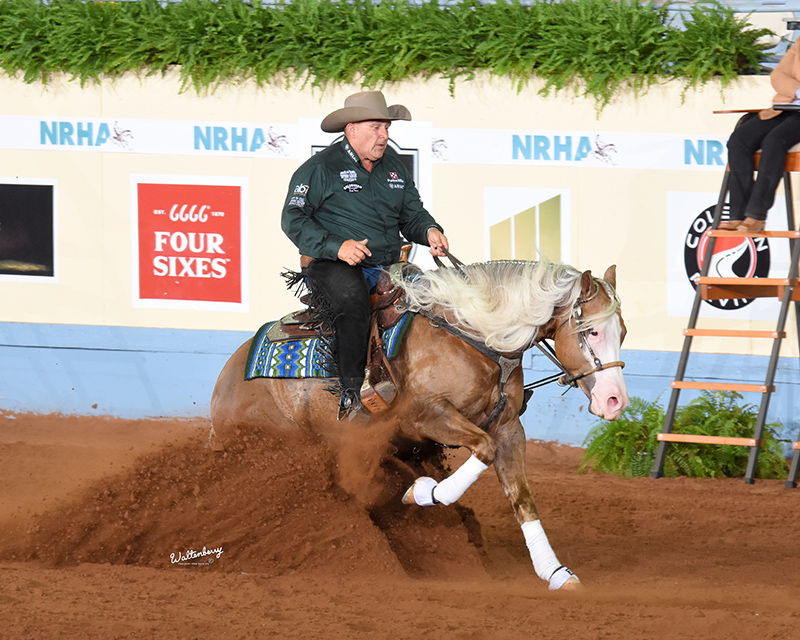 LTE - $7,480,578
Qualified riding Trash Your Gal (Gunnatrashya x Ima Sailors Gal), bred by Linda Campbell and owned by Jodie McCutcheon.
Qualified at: 2022 TRFAM $150,000 Shoot Out
Shawn Flarida is only the second NRHA member in history to surpass $7 Million in lifetime earnings and was inducted into the NRHA Hall of Fame in 2011. He has ridden and trained several horses that went on to become NRHA Million and Multi-Million Dollar Sires and Dams, including NRHA $12 Million Sire Wimpys Little Step, reining unofficial triple crown winner and NRHA Million Dollar Dam Wimpys Little Chic, 2021 NRHA #1 Leading Sire Gunnatrashya, and NRHA Million Dollar Sire Shine Chic Shine.
Known for his signature green show shirts, Shawn is also a five-time World Equestrian Games Gold Medalist. His son, Sam Flarida, is following in his father's footsteps as an NRHA Professional and has more than $260,000 in lifetime earnings as a youth and non professional.
Shawn and wife Michelle live in Springfield, Ohio.
Shawn is one of 6 riders that has competed in The Run for a Million since its inception and was the 2021 The Run for a Million Reserve Champion after a runoff.
Follow Shawn on
Facebook
.