This profile about Run for a Million competitor Shawn Flarida was first published in the December 2003 issue of the NRHA Reiner magazine. In 2017, Flarida crossed the threshold to become NRHA's only Six Million Dollar Rider.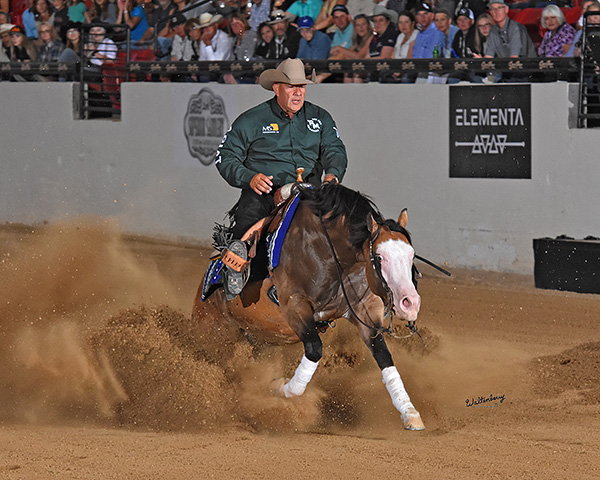 If Shawn Flarida had anything to do with it, he would have started his record setting NRHA professional career a few years earlier. As a third grader, he announced that he knew his address, where he lived and what he needed to know. "When can I stop school and start training horses," he asked his mother, Betty. "I said, "You have a long way to go bud," Betty remembered with a smile. "There was never a doubt about what I wanted to do with my life," Shawn explained as his trademark grin spread across his face. "So I thought going to school past the third or fourth grade was a waste of time."
Now that he has become only the third NRHA Million Dollar Rider and the youngest to accomplish this feat, it seems that Shawn knew something the rest of the world didn't and wanted to get started as soon as possible. His NRHA resume reads like a checklist of NRHA and USET major events and his steady rise to the top of the reining industry occurred in a mere twelve years. Flarida, 34, earned his first NRHA paycheck in 1981 and earned his biggest paycheck at the 2002 NRHA Futurity.
The Early Years
The youngest of Bill and Betty Flarida's four boys, Shawn was as focused on riding at twelve as he is today. Most would assume that his equally talented older brother, Mike, heavily influenced Shawn when it came to riding and showing, but with a fifteen-year age difference, Shawn found his inspiration closer to home.
"Mike was already working for Dale (Wilkinson) when I got interested in riding," explained Shawn. "So he wasn't around very much at that time. It was my Dad who has had the greatest influence on me as a trainer and horseman. He is a great horseman and probably would have been a professional horse trainer, but his parents discouraged the idea because they felt he couldn't make a living training horses in those days."
And so it was that Shawn and Bill would brave the dark and the cold to get their horses ridden after work and school. "We rode together every day," said Shawn. "And even today, he comes out to my place once a week. He's my best friend," the young trainer said about his father. "Being my father - nothing is ever perfect and he helps me keep my feet on the ground." Even today, you will see Bill pacing at the back gate. He's there every time - ready to acknowledge a good performance or redirect some energy.
"Dale Wilkinson used to have jackpot reinings about two times a month up in Findlay, Ohio when I was a kid," Shawn said. "Dad and I would drive up there on Friday nights and show in the jackpot. Dale would critique things and then we would go home and work on those issues and go back to Findlay two weeks later. I learned a lot from those sessions."
Shawn's first NRHA paycheck was aboard a good gelding named Moores Generator in the Limited Non Pro Division at Old Washington, Ohio. "My Dad gave me $800 to buy a horse and I bought this gelding from Ronnie Sharpe," remembered Shawn. "That was a lot of money back then and now I wish I had that horse later in life. He was so smart and a huge stopper."
As a high school student, Flarida was a competitive Non Pro. He rode Pearl O Lena to the 1985 Non Pro Futurity reserve championship at the 1985 Congress in Columbus, Ohio, and placed sixth in the 1988 Non Pro Futurity aboard Kings Sara San.
Steppin' Up
Since his mother insisted he continue his education past the third grade, Shawn graduated from high school before beginning his professional career. For two summers prior to becoming a professional, Flarida worked for his older brother, Mike. When Shawn hung up his own shingle, he had six horses in training and was leasing a barn in Miamisburg, Ohio. At $325 per horse for training, Flarida was on his way.
By 1990, Shawn was already making his mark as a professional. He was a 1990 Open Futurity finalist on Taylors It Girl and Seeking The Gold. The following year he rode Miss Muddy Waters to the 1991 NRHA Derby Limited Open reserve championship. Later that same year he rode a full brother to Taylors It Girl, Pobres Pauls Peach, to fourth place in the Limited Open Futurity and King O Lena to an eighth place finish in the Limited Open Futurity. In 1992 he was an Open Futurity finalist aboard Lenas Sparkle.
It was 1992 when Carol Harris first sent a horse to Flarida for training. "When a horse person of her caliber sends you a horse, you start to think you might know what you're doing," he said about the respected breeder and owner from Reddick, Florida. "She definitely gave me some good opportunities. The horse was Larks First Step, and a few years later this horse introduced Shawn to another important client and friend, Sammy Ely.
Shawn's star was on the rise and he demonstrated that at the 1993 Futurity with a fifth place finish in the Open finals aboard Peponitas Mr. The handsome stallion brought Flarida his biggest paycheck to date, $26,686. "This was the first horse I had ridden for John Essman and he was really good to me," Shawn explained. "He was the first owner that gave me the chance to buy some really nice horses."
The 1993 results were just a glimpse of things to come as Shawn rode another horse, Dun Its Easter Bunny, to the 1994 Congress Open Futurity championship for Essman the following year. Interestingly, 1994 was the only year after 1990 that Shawn didn't bring a horse back to the NRHA Open Futurity Finals. Major Incident, owned by Bob Stinner, caused a major stir during the 1995 Open Futurity Finals with a third place. "Bob was very supportive and a great guy to work for," Shawn remarked about Stinner.
Flarida hit another milestone in 1996 when he qualified three horses, the maximum a rider can show, for the Open Futurity Finals. He rode Itsa Bingo Greyhound, Sanjo Flintlock and Lil Dry Peppy to finalist slots. "That was the first and only time I have had three in the Finals," remarked Flarida. He also made reiners sit up and take notice when he entered Category 1 Open competition in 1996 aboard Zan Freckles Hickory. The powerful bay stallion and Flarida won the first go at the Congress Futurity in 1995, but never made Oklahoma City due to an injury. Healthy and ready to show in 1996, Shawn and the bay won the $3,000 Open at the Congress and the $5,000 Saddlesmith Series Open at the NRHA Futurity & Championship Show.
Itsa Bingo Greyhound, owned by Mark Schols, and Shawn won the 1997 Carolina Classic Open Derby and finished in the top ten of the NRHA Derby. "Mark bought Bingo as part of package," Flarida recalled. "Bingo Hickory San and Bingo Rebel were also part of the deal and I won money on both of them as well. Mark and I have been friends for a long time," Shawn said about Schols. "He has been there with me when things have been bad and when things have been great."
Flarida also won his first NRHA World Championship that year aboard Mr Kali Jac. This was another horse that Shawn purchased for Essman. "I bought him as a three-year-old for John and unfortunately he was injured and never made it to the Futurity. As a four-year-old he changed hands three times during the year that I hauled him for the Novice Horse Open World title. He was owned by John when I showed him at the February Florida Classic and Bill Bradley bought him at a show a few months later in North Carolina. At the end of July, he was purchased by Rosario Perez Companc of Argentina.
Mr Kali Jac dominated 1997 Novice Horse competition and won the Congress and Futurity Show classes after run offs. "He had been shown all year long and he felt as good as the first time I showed him in February," Shawn told the April 1998 Reiner about the horse. A world title haul usually spells the end of a show career for a reiner, but Mr Kali Jac kept on winning. He came back in March 1998 to win the Gordyville 4-, 5-, and 6-Year Old Event and the Open To The World 4-, 5-, and 6-Year Old Event and tied for seventh at the NRBC.
Connections
Sammy Ely purchased Larks First Step in 1995, and called Flarida to learn more about the horse. "He called me about the horse after he bought it and eventually we became great friends," Shawn said of Ely. "At one point he told me that if I found a prospect I liked to let him know and he would buy it."
Playboys Piranha was consigned to the 1997 NRHA Prospect Sale and Shawn liked what he saw, so he brought the horse to the attention of Ely. On Flarida's advice, Sammy purchased the stallion and sent him home to Ohio with Shawn. Playboys Piranha and Flarida topped the 1998 Tradition Futurity and placed sixth in the NRHA Futurity.
Mark Schols and Shawn teamed up on another futurity prospect in 1999. This time they brought Tivitos Sugar Bar to Lexington, Virginia and Flarida won his second Tradition Futurity championship. "This horse was one of four horses that made a change on me as a horse trainer," Shawn noted. "He was so great minded and would try anything I asked of him." Flarida went on to claim the 2000 NRHA Derby Co-Reserve championship on the talented stallion.
Flarida continued to make his presence known in NRHA aged-event competition in 1999 by placing San Jo Freckles, owned by long time friend and client Mike Harper, second in the Congress Futurity. They were also NRHA Futurity finalists and placed eleventh. "He got really sick in Oklahoma," recalled Flarida. "He had a 105 temperate at one point that week and I wasn't sure until right before the finals if I was going to show him."
The year 2000 found Shawn with two NRHA Open Futurity finalists. Before he even got to the Finals on Bay Bird Ninety Five, the trainer earned the first Pfizer/NRHA Open Gelding Incentive on the bay gelding. On Finals night, Bay Bird Ninety Five, owned by Allen Crupper, placed fourth and the mare owned by Charlie Vaughan, Go Red Pine, placed sixth. Taking more that $103,000 home from Oklahoma City, 2000 was personal best for Shawn.
Chic N Out owned by Ron and Jennifer Fisher, earned Flarida his second NRHA World championship in 2001. The bay stallion so dominated the Novice Horse Open class standings that he wasn't shown in a Novice class after August. "This horse was such an athlete," Shawn told the March 2002 Reiner. "It took us a while to get to know each other, but eventually I discovered he was a great show horse. As I rode him during the week, it felt like he was never paying attention to me. But when it was time to show, he was all business."
Later that year, Shawn took all three of his entries to the Congress Open Futurity Finals. He was Open Co – Champion aboard Joe Bowman's Sheza Great Bingo and placed his other two horses fourth and tied for fifth. "Years ago, Gary Trubee told me that I wasn't old enough to pick good stock yet," Shawn said after his win. "And I remembered that this comment bothered me at the time. I didn't understand what my age had to do with it. Later, Gary explained that to be really good at it, I had to be old enough to have ridden both the sire and the dam." After the Congress Shawn added, "Now I understand what he meant. Of the three futurity horses I had there, I have trained and shown both the stallions they are by and have either ridden, shown or watched all three of the their mothers show. Gary was right!"
Sheza Great Bingo was an NRHA Futurity finalist and Shawn won his second consecutive Pfizer/NRHA Gelding Incentive award aboard Mike Harper's Hickorys First Stop, by Zan Freckles Hickory.
Shawn continued his winning ways with a record setting year in 2002. Wimpys Little Step, owned by Schols, brought Shawn NRHA's crown jewel – the Futurity Open Division championship. As a mid year substitution for a prospect that died, Wimpys Little Step was second at The Tradition Futurity before he slid to the Congress Futurity championship. Shawn's second entry at the Congress, Showtimes Tinseltown, was the Reserve Champion. Wimpys Little Step and Flarida won the first go of the NRHA Futurity and tied to win the second go before triumphing in the Finals with a 233. Kali The Great, by Mr Kali Jac, helped Shawn win his third consecutive Pfizer/NRHA Gelding Incentive award. His 2002 NRHA earnings totaled a phenomenal $270,364 at the years end!
International Competition
When reining became the first USET approved western discipline, Shawn went about qualifying for the first USET Festival of Champions $100,000 Open Reining Championship. He brought three favorite mounts to Gladstone, New Jersey that first year. Itsa Bingo Greyhound, and Zan Freckles Hickory and he qualified two-time Non Pro World Champion Freckles Top Prize for the Pro/Am competition. Although he didn't win the Open Gold Medal that year, his brother Mike did aboard Whizard Jac. Shawn won his own Gold Medal however aboard Freckles Top Prize in the Pro/Am teamed up with Freckles owner, Shannon Raymond riding Bingo Hickory San.
The next year Shawn brought Sheza Dun Dry, owned by Dan Clarke, to New Jersey for the 2000 USET Open Championship and rode Taris Wildcat in the Pro/Am competition. In 2001, he rode Rick Clark's Talk About This to a USET finals berth.
The 2002 USET finals found Shawn in New Jersey with two old favorites. He had qualified San Jo Freckles for the Open Finals and chose Freckles Top Prize as his mount for Team USA's Nations Cup competition. Flarida was a member of the Nations Cup Gold Medal Team USA and earned the silver Individual medal aboard Freckles Top Prize. "He's a little horse, but he has a heart the size of Texas," Flarida said about Freckles Top Prize's long show career. However it was his silver medal in the Open Finals on San Jo Freckles that earned his spot on the first-ever Team USA to compete in the World Equestrian Games in Jerez, Spain.
Being part of a team was new to most reiners but Team USA was a tight knit group. "All of us on the team are about the same age and we see each other quite a bit throughout the year," Shawn said after his trip to Spain. "Because we are all friends and see each other often, we developed a camaraderie that would be hard to rival." It was a most fruitful trip overseas as Shawn and San Jo Freckles claimed the Individual Reining Gold Medal as Team USA won the first WEG Reining Gold Medal.
Study The Masters
Although some of his peers have become specialists to some extent by focusing only on aged event horses or strictly Category 1 events, Flarida has excelled in all fields. He was the 2002 Leading Open rider, the #2 rider on the Category 2 and 6 lifetime money earner list, and #9 on the Category 1 Leading Lifetime Money earner list. As NRHA's third Million Dollar Rider, Shawn is the #3 Leading Open Lifetime Money earner, just below Tim McQuay and Bill Horn.
Although Flarida has grown up in the NRHA family, he has a great deal of respect for those that have preceded him. "It's not the money that makes this milestone special," he told Pat Feuerstein, Reiner Feature Editor, about his million-dollar mark. "It's special because of the two guys who have already reached that plateau."
As a child, Shawn watched as a group of talented individuals built reining into an industry. "There is no one as fun as Bill Horn to watch show," he said. "And guys like Tim McQuay have made this industry a business."
Although McQuay and Horn had stallions to feed their show program, Flarida does not. However, that doesn't keep him from building his success around familiar horses. I have studied these guys my whole life," Shawn said. "BH, Tim, Bob Loomis, they all built programs around families of horses. I don't have one horse that I've built my program around, but I have focused on families of horses. Two of the horses I won the gelding incentive on were by studs that I had shown and out of mares that I knew. Sheza Great Bingo was the same thing. The mothers of Freckles Top Prize, Sheza Great Bingo and others that I have worked with will all be bred to Wimpys Little Step over the course of the next few years."
Family Man
Although he has cited his father as a great influence, Shawn feels his entire family has contributed to this milestone. His wife of eleven years, Michele, is his biggest fan and toughest critic. "I couldn't have reached such heights without her help," Shawn added. And, of course his three children provide a huge helping of delight in his life. Cody (8) Courtney (2) and four-month-old Sam, cheer for Dad and keep his feet planted firmly on terra firma. "After the Finals at the Futurity last year, we were all feeling really good as we headed back to the hotel," Shawn said. "And as we were riding back in the truck, Cody asked, "Dad, did we win enough money to buy a new CD?" Shawn laughed. "All that excitement and all he wanted to know was if we could get another CD. They will keep you pointed in the right direction!"