This profile about The Last Cowboy contributor Jason Vanlandingham was first published in the
April 2016
issue of the NRHA Reiner magazine.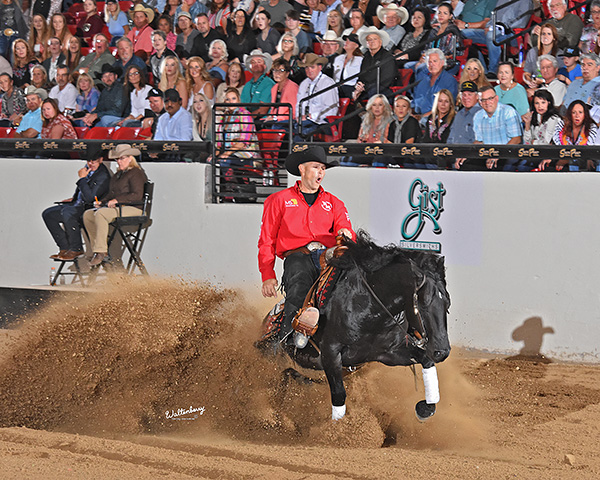 In the idle time before the 2015 NRHA Futurity Finals, nine-year-old Emma Vanlandingham got out a felt pen and a piece of paper and started drawing a horse and rider. But not just any horse. Unless anyone wasn't sure, she wrote out his name: Not Ruf At All.
It's a name inextricably intertwined with that of Emma's dad, Jason Vanlandingham, who in October joined the ranks of the NRHA's million dollar career money earners. Fully one-quarter of all that loot was earned on the back of the Vaughn Zimmerman-owned sorrel stallion, who rose to prominence carrying Jason to victory at the 2014 NRHA Futurity and 2015 NRHA Derby.
How the horse came to be in Vanlandingham's Whitesboro, Texas training barn is itself a great story. In 2011, Jason was a young trainer, well regarded within the reining community. He'd had many successes, including a Level 4 Co-championship at the 2008 NRHA Derby. But his name was not yet included among the likes of top-tier professionals. Still, there was a sense that, given the right opportunity, he was poised to join them on the big stage.
That opportunity presented itself through his long-time client, Sunrise Ranch LLC. Vanlandingham first heard about the Arkansas performance horse breeding farm through an ad seeking a ranch manager. He told his older brother Chad, who eventually met with owner John Walker and took the job. Soon after, Sunrise Ranch was sending its yearlings to Jason for foundation training.
Chad was already used to having his kid brother prepare his horses. Growing up in Galena, Kansas the teenaged horse trader would buy ponies to sell as kids' Christmas presents. He'd put Jason, his 8-year-old kid brother, on the ponies to ride the rough off them prior to sale. Then, the brothers would take the broke ponies, put Christmas ribbons on them, and tie them outside the homes of the children on Christmas Eve.
"That's where Jason got his start training, riding all them rotten little ponies," says Chad.
Chad felt that a reiner like his brother put a great foundation on cutting horse prospects, making them easier to train on cows and eventually better in the show ring. But Sunrise Ranch's main business was breeding, not showing, and Chad admits the colt-starting arrangement was good and bad for his kid brother.
"Jason's success probably would have come earlier had we not been selling all the best horses out from under him. But he was so good at making money for us, we kept doing it to him," said Chad with a laugh.
One horse that stuck around was A Smokin Whiz. Twice, Sunrise Ranch tried to sell the horse at the NRHA Futurity, and twice the horse had become ill prior to the sales. The second time, the horse became so sick he seemed to be knocking on death's door. But Jason's family took extra loving care of the horse, at one point allowing him to graze in their yard, and the horse began getting better.
Fully recovered, in training, and again for sale, A Smokin Whiz turned out to be an outstanding reining horse. Jason pleaded with Walker to let him show the horse at the NRHA Futurity, arguing that A Smokin Whiz was the best horse in his barn. Walker relented. At the Futurity, Vanlandingham made the open finals but fell just half-a-point shy of competing in the nighttime performance, which is a dream and goal of most young trainers.
As fate would have it, his morning score was good enough to tie for the Level 3 Open title with Brazilian Eduardo Salgado. Given the option to split the title or engage in a run-off, the pair saddled up. As the final two riders of the night, the duo provided a showdown to remember. Jason's ride was classic Vanlandingham: breakneck fast, butter-soft hands, and silky-smooth movements. The judge's marked him 226, one-half point more than they'd give Salgado. But both riders were elated with their performances, and the audience rained applause down on them.
"It was a turning point for me, finally being able to compete at the level I wanted to compete at," Vanlandingham said in reflection.
If Vanlandingham expected a flood of new customers after the memorable performance, he was disappointed. But at least two onlookers were not only impressed, they acted on that: Vaughn Zimmerman and his son Justin.
Jason had a Futurity-bound horse in his barn that he needed to sell. He called Philip Solom, who in turn contacted the Zimmermans. Impressed with the horse and with Jason, they agreed to buy it. One of the conditions of the sale was that Jason would get to keep the horse in training.
The horse, Wimpys High Bid, proved a very good investment. In 2011, Jason piloted the horse to second place at the Southwest Reining Horse Futurity in the Open and won the Level (L) 3 Open division outright. Suddenly, there was a buzz surrounding the pair going toward the 2012 NRHA Futurity.
For the first time, Vanlandingham made the cut for the Futurity's evening L4 Open championship round and he didn't let it go to waste. When the dust settled, Wimpys High Bid finished fifth among the Level 4 Open horses and earned the Reserve championship in the L3, netting the Zimmermans more than $72,000. All told, Vanlandingham put $149,803 (NRHA) on the horse during his show career.
Vanlandingham's successes gave the Zimmermans even more confidence in the rider. When the Futurity ended, the Zimmermans had a 2-year-old colt that had failed to bring the desired price at auction. So he went instead to Jason's stable. That horse was Not Ruf At All.
"He came into my barn in January of his 3-year-old year. He'd been well started by Bobby Avila, Jr. and I was expecting a nice young prospect who'd hopefully be ready for the early futurities and then the NRHA Futurity. That was the plan. He made me feel good and look good right from the beginning," Vanlandingham recalled.
Out of the box, Not Ruf At All took first place in the Level 4 at the Hollywoodstinseltown Open Futurity in Tulsa, and then he won the High Roller Reining Classic in Las Vegas. His next stop: the NRHA Futurity, as a favored contender for the Open title. Of course, buyers approached Zimmerman with prices as inflated as a beach ball, but he turned them all down.
"My son Justin and I made a promise to Jason that we wouldn't take the horse away," said Vaughn Zimmerman. "At the time, he didn't have another horse for the Futurity, and Jason had done such a good job with Wimpys High Bid…"
Not Ruf At All, who Vanlandingham calls "Vinny," proved to be the class of the 2013 event, scoring 225 points in a run memorable for its speed and smoothness. From the moment the pair dashed into the arena and laid down a slide like the horse was on rails, the feeling among the audience was electric.
"He went as fast as you can go and he just ate up the ground," said Jason of the ride. "The crowd went crazy on the first stop. It got louder and louder with each stop. It was cool!"
The $156,750 win boosted Jason's NRHA career earnings to just over $750,000, and elevated Vaughn Zimmerman to the status of NRHA Million Dollar Owner. That coming summer, Vanlandingham went on to win the NRHA Derby with a score of 229, "about as perfect a run as you could do," he said.
"He's all heart," said the rider.
Looking back, it's easy to think that Jason's march to stardom was predetermined. He is the quintessential "golden boy" – tall, blond, and with the sharp, chiseled face ad campaigns are built around. In high school, he was outstanding in baseball, football and basketball. He even considered major league baseball as a possible career.
His life story is as wholesome as a gallon jug of milk. He grew up the youngest of four kids in small town Galena, Kansas. His parents owned Van's Steakhouse in Baxter, and all the kids developed a powerful work ethic helping out. Always competitive, Jason and Chad would challenge each other to see who could sell the most pie, or make the most tips.
Jason married his high school sweetheart, Adrienne, who he'd met in third grade. After high school, they and their baby daughter, Alexis, promptly moved to Illinois to work for Eber Christopher, a renowned breeder of Paint horses who stood a much-in-demand stallion named QT Poco Streke. Jason knew of Eber through his father's interest in Paints.
Before arriving there, Jason's talent was in starting colts. He didn't really have skills beyond that. So Eber pressured and pounded Vanlandingham, who was still a teen, to learn everything he knew about Reining.
"He'd sit on a fence and scream and yell at me all day. He trained under extreme pressure - you learned, or you went home," said Vanlandingham. "In 10 months, I learned what it takes most people two or three years to learn."
The pressure Christopher placed on him was bearable – it's not like he and his siblings weren't used to it. At Van's Steakhouse, their dad had demanded perfection. And as an athlete, Jason worked far beyond what the coaches asked for in order to improve. Eber was a perfectionist, too, and only asked Jason to show once. When Jason broke the pattern, that was his last ride in competition for the Christophers.
After working for the Christophers, Jason and Adrienne returned to Galena. Jason built a reining track on his parents' property. He trained one of his father's horses, Happy Moonshadow, and rode him in the American Paint Horse Association World Show, finishing in the top five in Sr. Reining. (Vanlandingham's first NRHA check, for $41, was also earned on the Paint).
Reining professional Craig Johnson saw him at the Paint horse show and recognized promise in the young man.
"He was getting some stuff done on a black-and-white stud, a Paint. And I figured if he could get something done with that, he could make a good hand."
Jason went to work for Johnson and the position offered a freedom he'd not experienced before.
"Eber was on me all the time, pushing me. Craig turned me loose and he put me on really good horses. I'd mainly been on Paints which were not bred for Reining. So being on good horses was a change," he said. Vanlandingham also liked that Johnson only showed at the major events, which he soon became accustomed to and which set his bar high for performance. Johnson happily created opportunities for his younger sidekick.
"When you look at a horse, you can tell if it has a gift. I could see that in Jason, too," said Johnson.
Jason began showing big-time moves aboard a horse named Gallos Stylish Star, a dark chocolate stallion raised by Sunrise Ranch. Jason took the horse to the NRHA Futurity, the NRBC, the NRHA Derby and the AQHA World Show, earning large checks wherever they went. The pair finished third in the 2005 NRHA Futurity's L3 Open division, and then went on to win the 2008 Level 4 Open Co-championship at the NRHA Derby, his biggest victory to date.
"He was my first 'big-time' horse, the first legitimate Level 4 horse," he said. Vanlandingham won more than $75,000 in NRHA competition on him.
"He got us on the map, as far as people noticing me," Vanlandingham remarked. "He was putting me in the finals at the major events and gaining me some name recognition."
One of his admirers was Rosanne Sternberg, one of the sport's most esteemed breeders, who felt Jason would be a good fit for a horse named Whizin Off Sparks. On this mare, Vanlandingham won the NRHA Derby L3 Open championship and was a finalist in the L4. After a long and successful show career that stretched from 2007 to 2011, the mare and Vanlandingham had combined to win more than $90,000.
All of this, of course, was the prelude to his 2011 NRHA Futurity breakout ride off against Eduardo Salgado, his first qualification for the Futurity's evening finals aboard Wimpys High Bid, and his triumphant 2013 Open Futurity Championship on Not Ruf At All.
Fame and fortune have been a boon to Vanlandingham's training business. It's often said that "the first million is the hardest," and it's a fair bet that the second million will come much quicker. There have been dozens of articles written about him, causing his brother and sister-in-law to tease him about it at every chance.
Despite this, he remains gracious and humble about his success. Not long after Vanlandingham reached his million, so did his friend and now two-time NRHA Futurity winner, Casey Deary. This past summer, they got together with another two-time winner, NRHA Two Million Dollar Rider Jordan Larson, to put on a youth reining clinic. But the importance of that was bigger than just riding.
"We were teaching a lot more than Reining," said Jason. "It was about what God has done in our lives. About being a good person and raising good families.
"One of the best things is that Reining has given me the opportunity to serve as a mentor to young people."
Those include he and Adrienne's four kids, teenagers Alexus, Dalton, Courtney, and of course, their proud, budding artist, Emma.