This profile about The Last Cowboy contributor Andrea Fappani was first published in the December 2006 issue of the NRHA Reiner magazine. In 2017, Fappani crossed the threshold to become an NRHA Five Million Dollar Rider.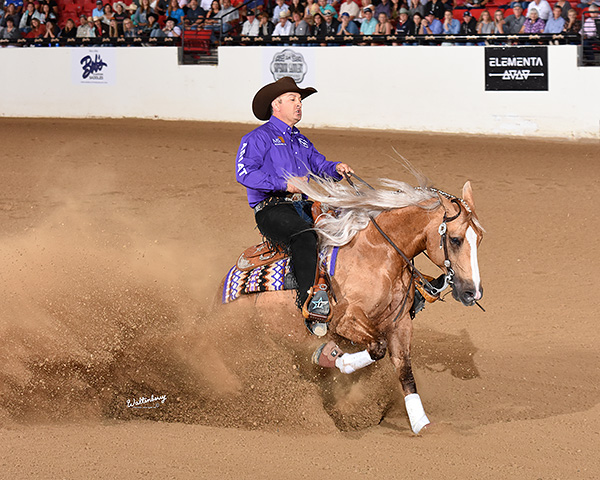 Andrea Fappani is smart, focused and dedicated to his craft. His 12 hour days on horseback indicate that Andrea is also a perfectionist and not afraid of hard work.
"I was raised the same way my mom and dad were raised – with values," explains Andrea. "You work for what you get; nothing gets handed to you; you put in the hours during the day because results only come from hard work." Perhaps that explains why, at age 29, Andrea Fappani is NRHA's newest – and youngest – Million Dollar Rider.
Growing Up – Dreaming Big
Andrea grew up on his parents' dairy farm just outside of Bergamo, Italy – about 20 minutes north of Milan. Both his parents, Sergio and Maddalisa, are fourth generation dairy farmers. They have a huge, successful farm, home to 1200 milking cows. It would seem natural for Andrea to follow in his parents' well-worn footsteps. But at a very early age, Andrea already had other plans.
While on a family vacation, Andrea (at age four) was put on a pony and went for a trail ride. "From then on, I started taking lessons close to my house at a really high-quality hunter and jumper facility," explains Fappani. "I didn't have too much of a chance to work on the farm because as soon as I started to ride, that's pretty much all I did – school and horses. Since my mind was always with horses, I didn't care a lot about the cows."
Andrea and his dad shared the passion. "All my dad and I talked about and lived were horses. My mom and sister (Elena) got sick of hearing about it," says Andrea.
Andrea was progressing nicely with his jumping lessons when a friend encouraged him and his dad to take a lesson in Reining. "We didn't know or care anything about it. We thought these people were cowboy 'wanna bes'. We went to see what it was all about – pretty much to make fun of my friend," says Andrea with a smile. "My dad and I tried it and we both fell in love."
That's not to say Sergio was enthusiastic about his son's sudden interest in Reining. "He didn't think that western riding had a future in Italy. He saw it as people watching western movies and wanting to be cowboys, but not really a competing discipline. It took me quite a while to convince him, but by the time I did, I was seven-years-old and taking lessons full time from Alberto Serena. After six months, I leased my first reining horse, Ricky Chex. He was trained by Guy Gauthier. He was a very good horse trainer. He was way ahead of his time." (Guy Gauthier was inducted into the NRHA Hall of Fame in 1990.)
In 1987, Andrea made his first trip to North America. He and his dad went to Quarterama in Toronto, Canada. They went home with another Guy Gauthier trained horse, Shutdown Preston. "She was a pretty nice mare, but a little too much for a little kid," says Andrea. "It took me quite a while to get her shown, but it was a good experience for me. My dad was riding, too, and he was developing his dream of breeding and raising horses. We bought a stud. We bought some mares. We starting riding our own horses at home – getting experience. That was the beginning of the end." Actually, at age ten, it was the beginning of Andrea Fappani's career.
Opportunities
Opportunity is the greatest gift a parent can give a child. Making the most of an opportunity is the greatest show of appreciation a child can give in return. Sergio made sure his young son had every opportunity to ride good horses and learn from the best in the business. Andrea made good use of his time.
"I always had to get good grades in school," says Andrea. "That was my dad's priority. I didn't like school too much, but if I didn't have good grades, I didn't get to go to the next horse show." Andrea got good grades.
In 1990, Sergio purchased Jasons Easter Pepper for Andrea. Dr. Jim Morgan placed this mare third in the 1989 NRHA Non Pro Futurity. "I did really well on her," says Andrea. We won the Italian Reining Horse Association (IRHA) Non Pro Derby and we were Italy's Non Pro Champion of the Year (neither was NRHA approved)."
The Fappanis lived within driving distance of reining enthusiast, Guiseppe (Peppo) Quaini. Peppo had American trainers, Mike Davis and Scott Fisher, working for him. On weekends, Andrea and his dad would ride at Peppo's. Andrea also rode with Jim Kiser at Claudio Risso's facility. "We did as many clinics as we could, too," says Andrea. They attended demonstrations by Tim McQuay, Larry Rose and Doug Milholland. "That's when I started to dream about coming to the States to meet my heroes."
Not that there weren't any speed bumps along the way. By now, the Fappanis were raising their own horses. Sergio did the training, Andrea did the showing. "I was 14-years-old, so now I think I know better than my dad. We were always arguing about the horses: He didn't train them well enough – I didn't show them well enough. But I never wanted to quit – only for about six months when girls were more important than horses. My dad jerked my chain. He said if he was going to spend that much money and that much time, horses needed to be a priority.
"I think I always wanted to be a horse trainer. As a kid, I'd see these trainers, especially the Americans and think 'They don't have to go to school – they don't have a real job because they're doing what they like to do, they spend all their time wearing boots and spurs, riding horses, chewing tobacco and being cool.' I always thought that was probably the best job I could get."
Coming to America
"The first time I went to the U.S. I was 14-years-old," says Andrea. "I went to ride with Gaetan Gauthier. I spent two summers with him and it was a very good experience. I learned how to run a barn. I learned how to train young horses. I got to ride two-year-olds, which I had never done before."
The second trainer Andrea rode with was Craig Johnson. "Craig was one of my idols. He was another young guy who looked to me like he was a little bit ahead of everyone else. When he showed his horses, they looked like they wanted to do it on their own – really smooth. That's when I decided I wanted to come to the States. But I had to convince my dad." Andrea's parents gave him their blessing thinking that Andrea would see how hard it was to make a living as a horse trainer, come back to Italy, go to college and become a vet. That didn't happen.
In America, the West Coast riders were coming into the picture. Andrea watched Bob Avila, Brett Stone and Todd Bergen. He liked what he saw. "That's when I fell in love with Todd's horses," says Andrea. His good friend, Matteo Arcese, introduced Andrea to Bergen at the 1996 Italian Reining Horse Association Futurity. "He invited me to come to the States and ride with him."
In 1997, Andrea went to Arizona to ride with Todd Bergen and John Slack. 1997 was a very important year for Andrea. He went to the NRHA Futurity in Oklahoma City where he placed sixth in the Non Pro Futurity and won the Limited Non Pro Division on his Best By Tari.
It was also the year he met his future wife, Tish Wood. Andrea admits that he was under the impression his Italian charm would mightily impress Tish, but admits, "It took me quite a while to win her over."
Andrea had to go back to Italy to complete his military service. He and Tish kept in touch. "I knew she was the one," says Andrea. In 1999, Tish gave up her Non Pro card and started working for Bergen. When Todd was ready to make the move to Oregon, he only had room for one assistant. Tish went to work for Craig Schmersal. Andrea, who had already finished his service obligations, made the move with Bergen. He and Tish kept in touch.
Tish soon decided she didn't want to train horses for a living and would prefer to pursue her dream of getting married and having a family. She moved to Oregon! "That's when we started our life together," says Andrea. Tish and Andrea were married on June 8, 2001. (They have a son, Luca, and another son due to arrive during the 2006 NRHA Futurity.) By this time, Andrea, with the guidance of Todd Bergen, was already making his presence felt in the NRHA show pen.
Show Time
From 1994 through 1997, Andrea Fappani earned $23,713.70 as an NRHA Non Pro competitor. He started his apprenticeship with Todd Bergen in 1999 and earned his first NRHA Open paycheck in 2000. In other words, between 2000 and 2006, Andrea Fappani added over $1,000,000 to his NRHA Lifetime Earnings! The overwhelming majority was earned on three-year-old reining horses.
"Todd wanted me to get more experience and change some things about the way I showed," explains Andrea. "He gave me an older horse and I started showing in AQHA events in 2000." Todd also gave Andrea two nice futurity horses, one was a cow horse and one was a reiner. The cow horse was injured, the reiner turned out to be a good one: Hagans Sugarman owned by Jim Blumer.
Andrea and Hagans Sugarman went to the 2000 NRHA Futurity, placed well in the Limited Open Division and won the Intermediate Open Division. Then they went to the 2001 NRHA Derby and made the Open Division Finals. Andrea views Hagans Sugarman as his breakthrough horse. "If I hadn't done well on him, there was no way I'd get to keep two nice horses for the 2001 NRHA Futurity."
Andrea actually got to ride three nice horses in the 2001 NRHA Futurity: Peeko Del Cielo owned by George Shifrin, Style With Me owned by Andrea's father, Sergio Fappani, and RR Star owned by Lundin Farm. He rode RR Star all the way to the winner's circle.
While at the 2000 NRCHA Snaffle Bit Futurity, Bergen and Fappani met Rose Lundin. She had them look at her long two-year-old. "He was a hairy, little Paint horse, but we took him home anyway," says Andrea. "Todd gave him to me. He was a coming three-year-old that didn't know anything. We pretty much thought he'd never make a top reining horse. But he had a lot of talent. He was a tough little cookie, and I liked him quite a bit from the beginning." The Lundins thought about selling RR Star, but when they saw Andrea show him at the APHA World Championship Show, they fell in love and decided to send him to the NRHA Futurity under Lundin Farm's ownership.
"I never imagined that I'd get to keep all three horses, but Todd let me keep going. That was just a dream come true." Andrea won the MEC/WCEF Spectacular Reining Futurity at Rancho Murieta, California, on Peeko Del Cielo. He was fairly confident about OKC. "I knew I had really good horses. I was riding like I could win, but in the back of my mind I was wondering 'what am I even thinking?' This was only my third Futurity. But RR Star was pretty special.
"I learned early that it's important to peak a horse for the Futurity, but it's hard to do that on a three-year-old and I didn't have the experience yet." RR Star had other ideas. "To me it was just luck. RR Star just jumped up. He was always a good horse, but two weeks before the Futurity, he was a great horse. Everything just happened at the right time. He just got better and better. He marked higher in each go. It was one of those things that doesn't happen very often – especially to a young trainer."
Andrea was 24-years-old when he won the NRHA Futurity Open Division on RR Star – the first Paint to win the title – the first time the Futurity was won by a European rider!
Out On His Own
After his Futurity win, Andrea decided it was time to go out on his own. He gave Todd Bergen one year's notice and after the 2002 NRHA Futurity, where Andrea was seventh on Tish's Lean With Peppy Chex, the Fappanis moved to their training facility in Temecula, California. "We couldn't be near my family, so we wanted to stay close to Tish's – they live in Los Angeles.
"I wanted a successful business," says Andrea. "I knew it wasn't going to happen by just being a good trainer or a good businessman. I knew I had to have good horses."
Fortunately, people had already noticed Andrea Fappani. Jim Blumer and Vaughn Zimmerman were always supportive and according to Andrea, "People trusted me and gave me really nice horses to show." One really nice horse was NQH Little Jac – but that was a surprise to Andrea.
NQH Little Jac was purchased right because he was "a little hot." He was purchased for long-time friend, Mario Sbrana. "About half-way through the training process, we didn't think he'd work and decided to sell him. Juston Palmer wanted a young horse to show in local events – not an Open horse. He was interested in NQH Little Jac and asked me to show him once as a three-year-old. I showed him at the Summer Slide in Denver and he surprised me. He scored a 218. We still sold him to Juston. I still didn't feel he was an Open horse." Andrea was in for another surprise.
Juston asked that the horse be shown in the MEC/WCEF Spectacular Reining Futurity at Murieta. "He felt good in the first go," says Andrea. "I figured I'd open him up in the finals and he came out a whole different horse. The faster you went, the better he was – the more focused he became – the more he wanted to show. He won Rancho Murieta."
Andrea had already committed to take three horses to the Futurity, so Juston took his new horse home with instructions to "cruise him around two or three times a week to keep him relaxed." As fate would have it, three weeks before the Futurity, one of Andrea's Futurity horses got hurt. "I told Juston to bring NQH Little Jac back, I just might need him." Two weeks later, Andrea and NQH Little Jac were second in the 2003 NRHA Futurity. They were also second in the 2004 NRHA Derby.
NQH Little Jac taught Andrea a valuable lesson. "You never know where the fancy ones will come from. I'm not looking for a good horse. I'm looking for a great horse and the great horse can come from anywhere."
Perhaps that explains why Andrea starts between 30 and 35 Futurity horses each year. "So many trainers get stuck with the same type of horse – the type of horse that works for their program. That's boring for me. I adapt my program to the horse. Todd Bergen taught me how to train a young horse. He taught me how to get into their heads and teach them to do it on their own. To me, Todd is the greatest horseman I've ever met and had the privilege to ride with. He taught me how to approach each horse as an individual."
In 2004, Andrea took three individuals to the NRHA Futurity Finals: Hesa Genuine Whiz owned by Michael Towers, Smartest Reminic owned by Vaughn Zimmerman, and Ghirardelli Chic owned by Carter Smith. In 2005, Andrea was second in the NRHA Futurity on Big Chex To Cash owned by the 23 Partnership and a finalist on Steve Simon's Custom Destiny. In 2006, he had great success in aged events on Simon's Custom Legend. They've earned over $85,000!
Different Directions
"I always set goals for myself," says Andrea. "My first goal was to come to the States. Then my goal was to make it in the business. When Todd told me I was going to make it, my goal was to win the Futurity. Then my goal was to go out on my own and have a successful business. Two years ago, I looked at myself and said, if I'm really good I can make the million dollar mark before I'm 30 and be the youngest NRHA Million Dollar Rider – and I did.
"If I had my choice, I'd be riding two-year-olds all day long. If you do something wrong, you see it right away. If you do something good, you see them improve," says Andrea.
"Older horses have always been a challenge for me. I had to learn to leave them alone." Once again, Andrea has learned his lessons well and has established himself as a consistent threat in events for four-five-and six-year olds including the NRHA Derby, the National Reining Breeders Classic and other major derbies.
Despite his young age, Andrea realizes he won't be able to ride 15 horses a day forever. "I'm not sure about standing a stallion, but I'll try to find other ways to provide for my family." With that in mind, Andrea already has an eye to the future.
"Clinton Anderson has been a good friend for the past three years. He's the one who came up with the idea for a DVD series," explains Andrea. The 2-Year-Old & 3-Year-Old Fappani DVD Series is doing very well, thank you.
"I did a few clinics this year, and I'm doing three next year," says Andrea. "I like selling horses and would like to do more of that. But in order to sell your DVDs, do clinics and sell your horses for good money, you have to keep your face out there. It's a challenge to keep everything going."
Andrea does love a challenge. He has the values, work ethic, intelligence and talent to meet those challenges head on. Congratulations, Andrea Fappani, NRHA's youngest NRHA Million Dollar Rider.
Andrea, Tish and Luca now make their home in San Marcos, California, where they operate Fappani Performance Horses. They also have a website –
www.fappaniperformance.com
.
SIDEBAR BREAK
Over the Top
Going to the Scottsdale Classic in Arizona this fall, Andrea was less than $2,000 short of his NRHA Million Dollar milestone. He won the Scottsdale Classic Futurity on Good Ole Mr Wilson owned by Cinder Lakes Ranch. He was second on Great Sun Burst and fourth on Mr Moth Money. Both horses were owned by the 23 Partnership (Van Dorp, DeBruin, Gattuso have since purchases Great Sun Burst). Andrea earned better than $33,000 and the title of NRHA Million Dollar Rider!
Our Italian American
On coming to America, "I loved it from the beginning," says Andrea. "I loved the food, the way people talked and, of course, I loved the reining horse business." On October 27, 2006, in Phoenix, Arizona, Andrea Fappani became an American citizen. "I've been here so many years, that I felt I should be part of this country."