Can you picture yourself driving down the arena then hearing the roar of the crowd as your horse melts into an incredible sliding stop? Do you see yourself delivering a breathtaking spin? Are your dreams beginning to be focused on the reining arena?

Every winner was a once a beginner. And every beginner can enjoy reining. It's just time to - like these competitors - pick up the reins and begin.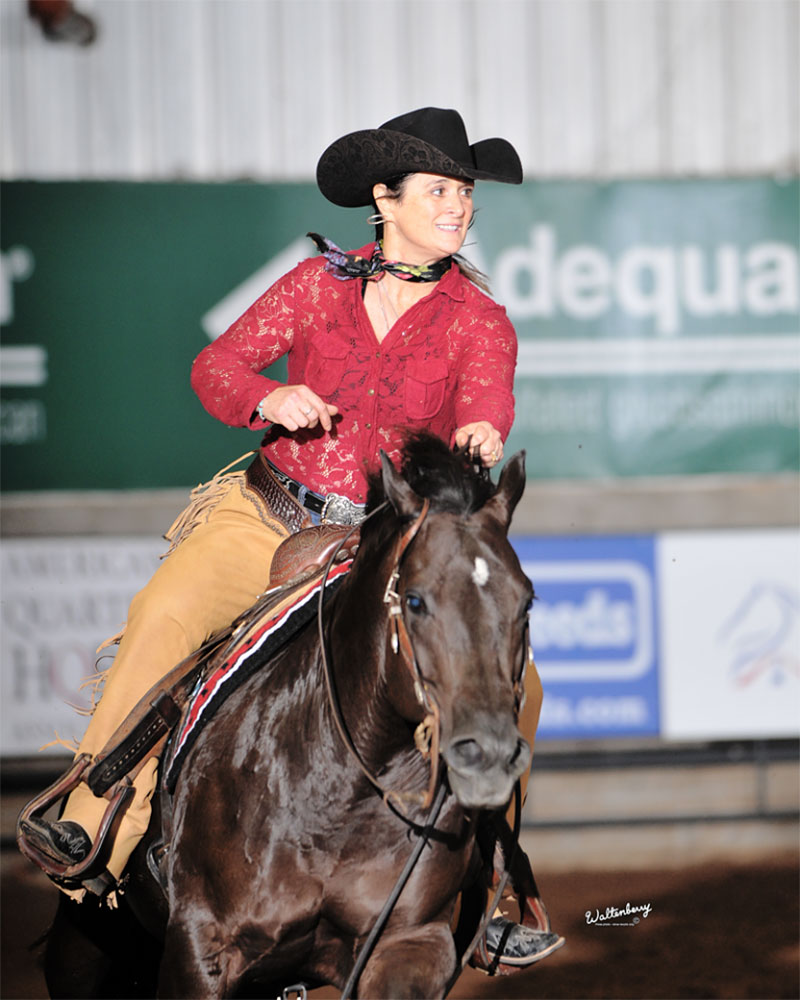 Photo credit: Waltenberry
Nancy Brugato, Tigard, Oregon
Nancy Brugato of Tigard, Oregon, has shown in NRHA events since 2010. She and her brother own and operate a wholesale produce company, Pacific Coast Fruit Company.
Nancy has ridden horses her whole life, starting in 4-H, then in later years, she began riding cow horses and cutters before turning to reining. Nancy said, "I spent a lot of time just figuring things out on my own because I didn't ride with trainers when I was younger. There are plusses and minuses to that process. Sometimes it took a lot longer, but when I accomplished something or won a class, it was really neat to look back on it and think, 'Wow, I did that!'.
Read more about Nancy
here
.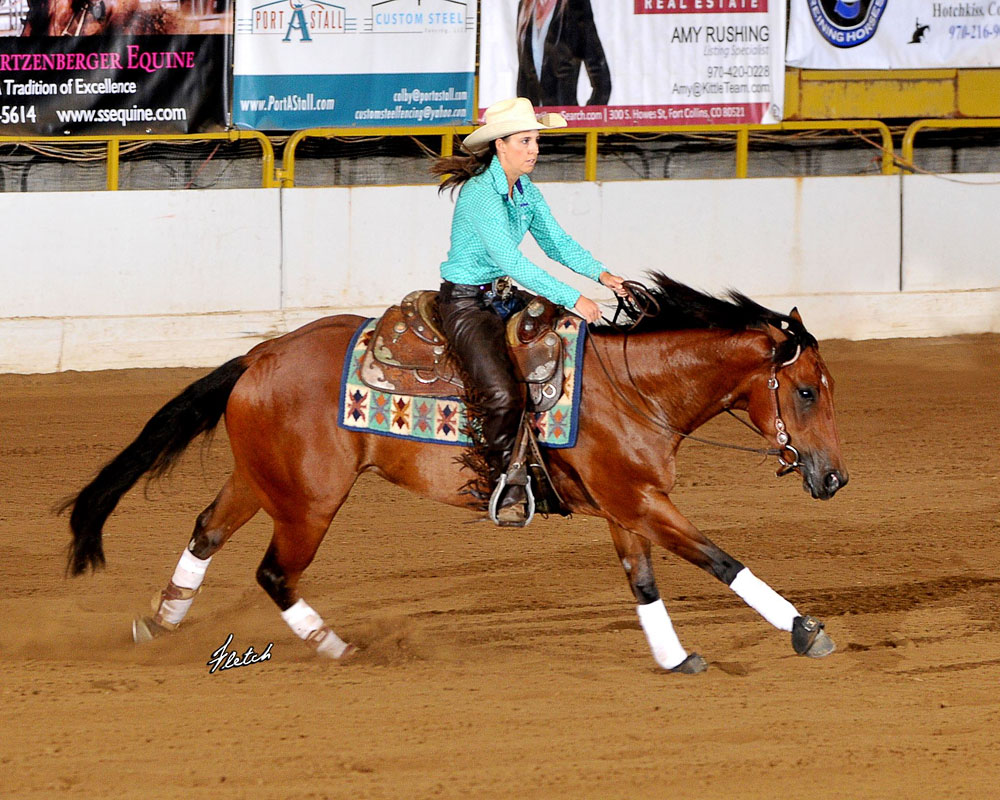 Photo credit: Fletch Photography
Kalli Bell, Hayden, Colorado
Non Pro rider Kalli Bell and her husband, Eric, own a cattle ranch in Hayden, Colorado, where they live with their son, Bodie, and daughter, Macie. In addition to showing, the Bell's reining horses get used in all aspects of ranching, including gathering and sorting cattle.
She noted, "I always had horses and showed in 4-H events when I was growing up. At some point, there was a reining clinic near us, so my mom and I went, and I thought it was really cool. That was a long time ago—I was maybe 10 or 11 years old when I decided reining was something I wanted to pursue.
"When I was 13, my mom and I talked my dad into getting a mare that was a reining horse. Looking back, she was not really that much of a reiner, but to us, she was really cool. Since then, I've bought and raised several other reiners, and I just love the athleticism of reining horses as well as their minds—they're really trainable."
Read more about Kalli
here
.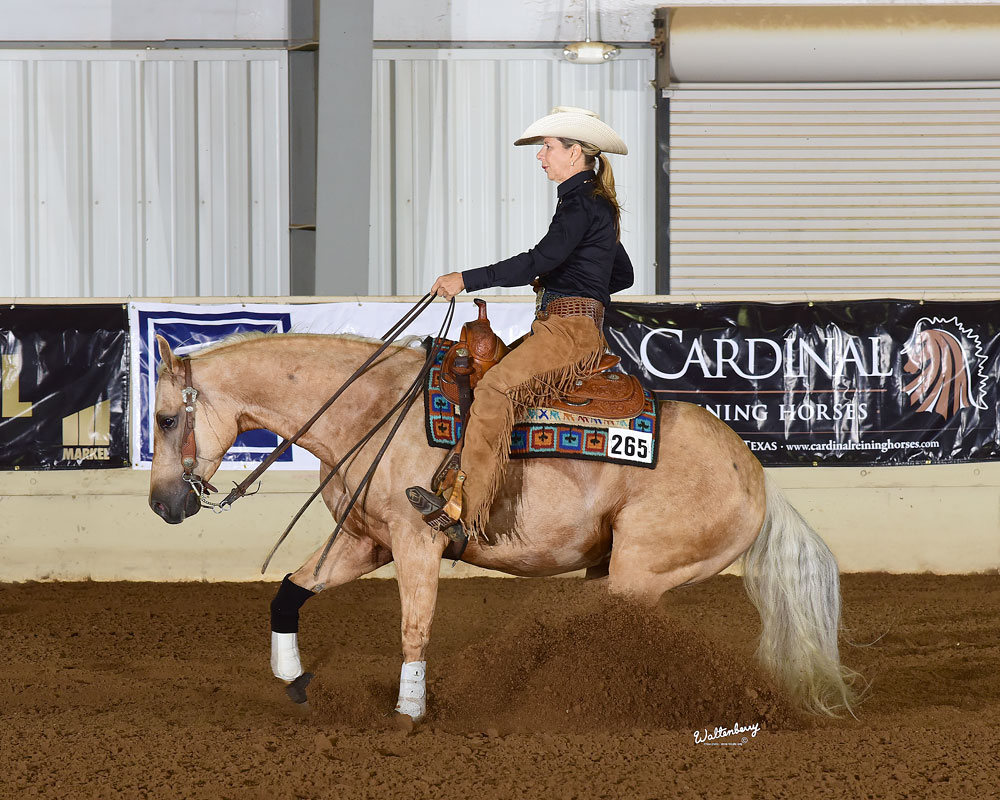 Photo credit: Waltenberry
Cindy Johnson, Topeka, Kansas
Cindy Johnson and her husband, Joe, live on their ranch in Topeka, Kansas. Recently retired from a successful 30-year career as a criminal defense investigator, reining served as a much-needed outlet from her high-pressure job.
She got started reining through an interesting turn of events. "My husband, Joe, wanted to get involved in riding and showing so we could do it together. At the time, I was showing Western Pleasure horses, which he thought was about as exciting as watching paint dry. After doing some research on reining, Joe decided he wanted to meet (NRHA Hall of Famer) Smart Chic Olena. We drove down to Texas to see Smart Chic Olena at Babcock Ranch. At that time, Bryant Pace was the head trainer there, and he let me ride a really nice reining mare. I never rode my Western pleasure mare again!"
Read more about Cindy
here
.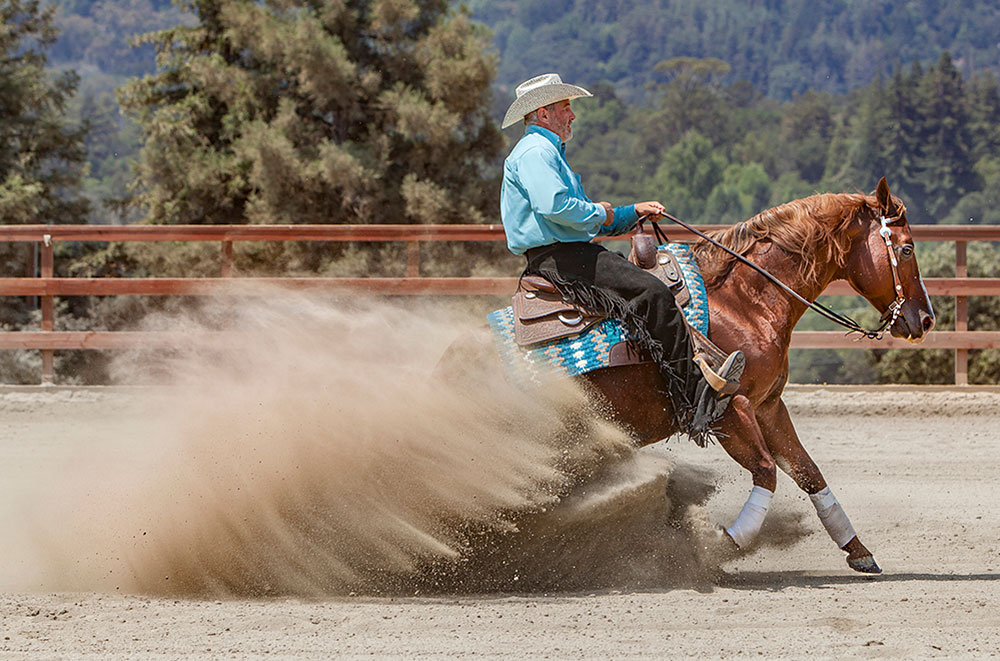 Photo credit: John O'Hara
Ric Keele, Spanish Fork, Utah
Ric Keele grew up around horses, in large part because of his grandfather who gave him his first horse when he was 9 years old. He remembers, "I just loved riding. As I grew up, I felt like I wasn't a good enough rider to be competitive, so I started showing halter horses. Overall, I've won 31 world and reserve world championships in halter competition in AQHA, APHA, and PtHA shows."
Then Ric began to help [NRHA Professional] Nathan Ivie manage his breeding program. "One day he let me cool out one of his reiners. Then he told me to spin him, and I was pretty much hooked! I was always intrigued by reining, but I didn't think I was a good enough to ride a reining horse. Once I got that chance to ride a good reining horse and see how cool it is, I jumped in with both feet. I bought some reining horses, and less than a year later, I was showing. At my first show—the Reining by the Bay—I won a saddle riding Moonshine N Juice, a stallion I leased from Nathan."
Read more about Ric
here
.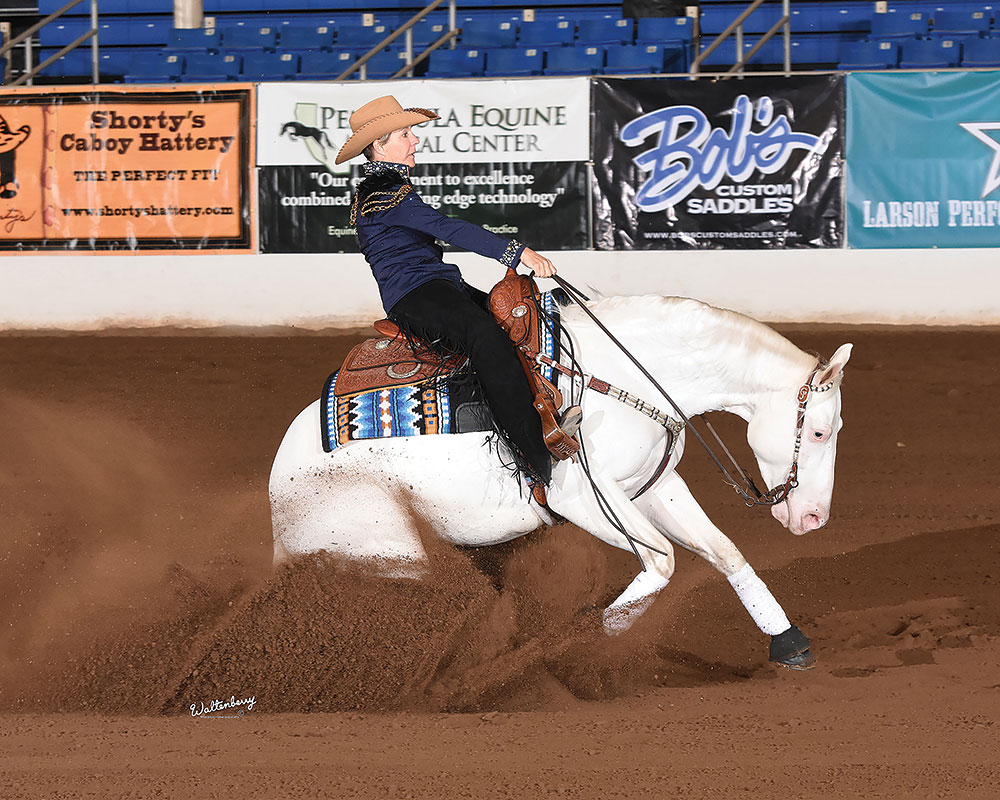 Photo credit: Waltenberry
Jennifer Greenleaf, Rio Verde, Arizona
Jennifer Greenleaf, from Rio Verde, Arizona, grew up around horses, but always rode English. Her father played polo, her mother fox hunted, and she rode in Pony Club and showed jumpers as a junior rider. "I've basically shown hunter/jumpers my whole life. I've also played polo and done fox hunting."
In 2015, when she was in Wellington, Florida, Jennifer decided to take a lesson on a reining horse and knew immediately that it was something she wanted to pursue. "One of my friends told me about the McQuays and McCutcheons, and I started riding at Tom McCutcheon Reining Horses in 2015."
Jennifer spent time flying back and forth between Texas and Virginia, where she lived at the time. "Debbie Brown was my main trainer at McCutcheon's, but when you ride there, you get the joy of being around the whole team of trainers and riders."
"What intrigued me was that it was so different from what I'd done in my previous riding life, but that there were many similarities, as well. Great horses are great horses, and great riders are great riders—regardless of the discipline."
Read more about Jennifer
here
.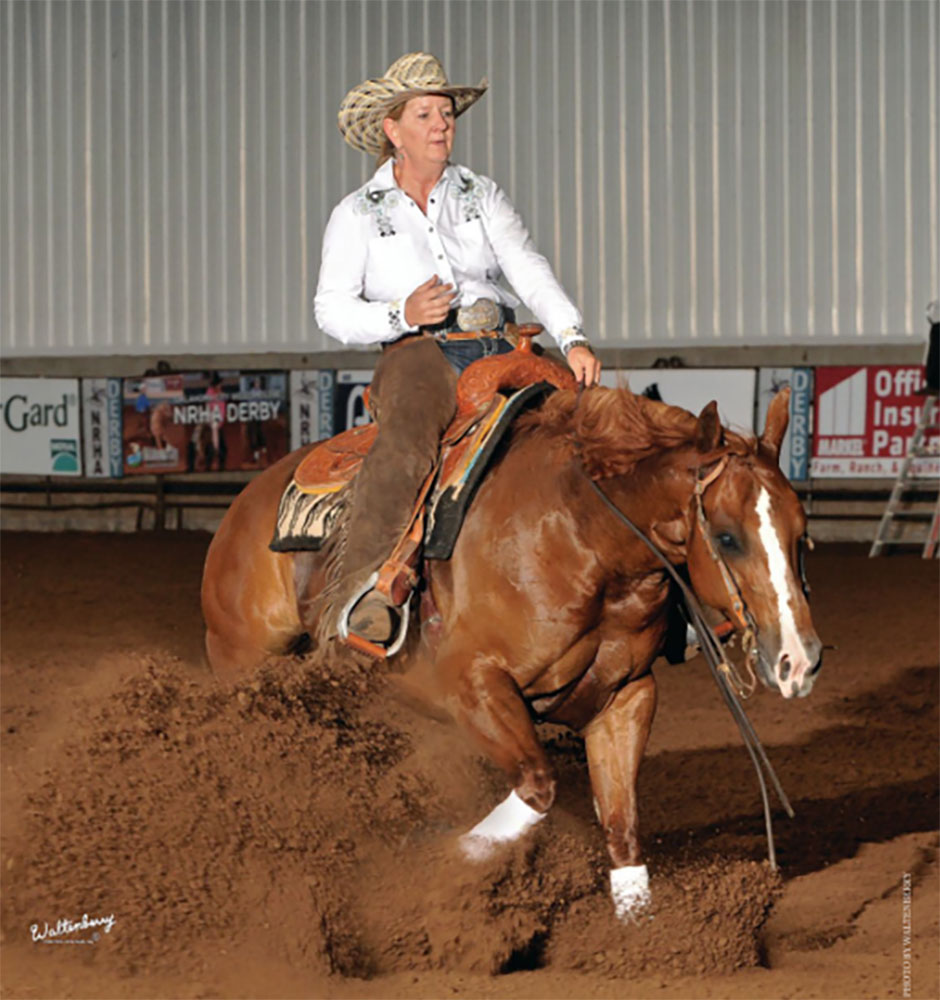 Photo credit: Waltenberry
Becky Meyring, Eaton, Colorado
Showing in NRHA events since 2014, Becky Meyring grew up roping and riding on the family ranch in Texas but moved to Colorado about 10 years ago when her father unexpectedly passed away, and she took over the management of his facility, Spicer Arena, in Eaton, Colorado.
She remembers, "At that point, I was riding cutting horses, but I soon realized that there were a lot more reiners than cutters in Colorado. About 5 years ago, a friend of mine let me ride one of his reining horses, and I seriously thought I was going to get sick after I spun. But the second time I got to ride a reiner, I realized how cool it was, and I've been hooked on it since."
She reflects, "I've learned in reining that you can't do it all by yourself. We are all so much better off surrounded with good people and horses."
Read more about Becky in the March 2019 issue of the Reiner
here
.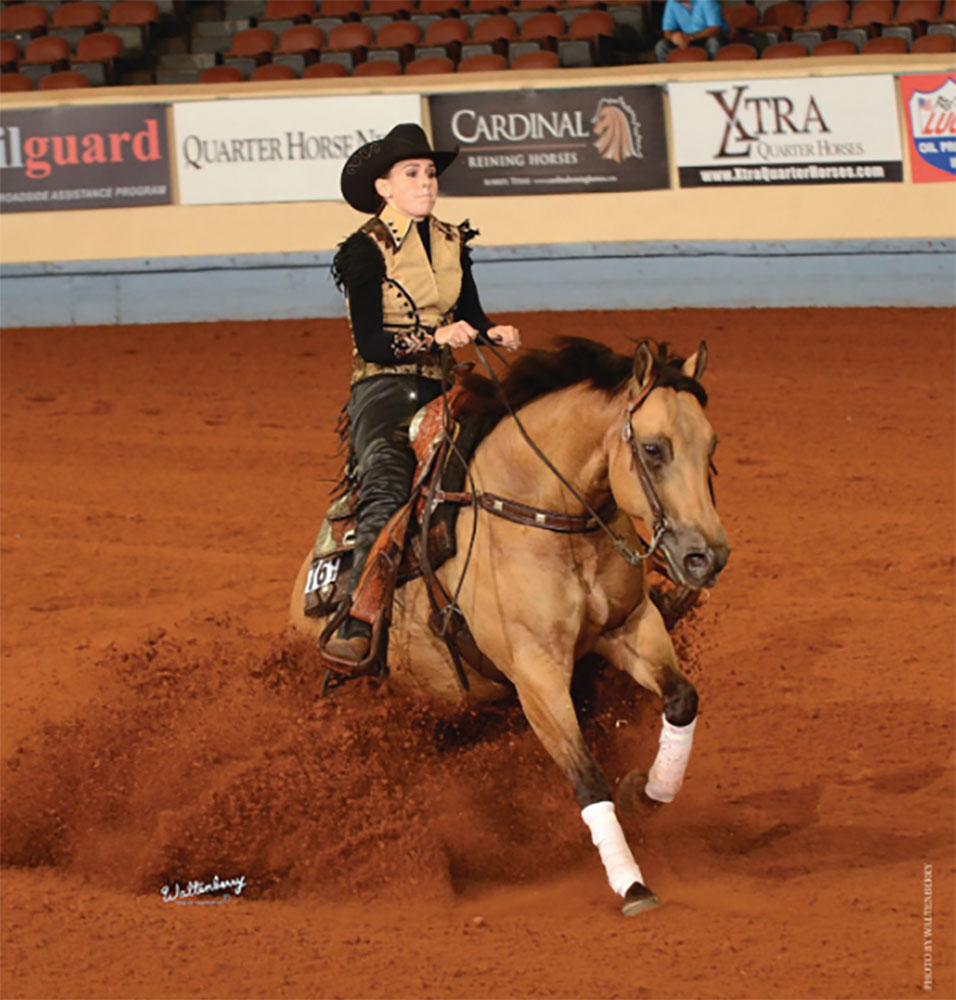 Photo credit: Waltenberry
Lyndsey Cruise, Georgetown, Kentucky
Lyndsey Cruise fell in love with reining when she was 10 years old. She watched the reining at a local show and decided that's what she wanted to do! She remembers, "My parents bought me a 15-year-old war horse named High Enterprise (Be Aech Enterprise x Hollywood High) that was the best teacher in the world. He truly made me fall in love with the sport.
"I'm a highly competitive person, so I love that aspect about reining; however, I also love the people in this industry. My trainer (NRHA Professional Robin Scholler) has an amazing team. We all cheer for one another and have a blast. Even though I might be tired and worn out from a show, it's a vacation with some of my best friends at the same time!"
Read more about Lyndsey in the June 2019 issue of the Reiner
here
.