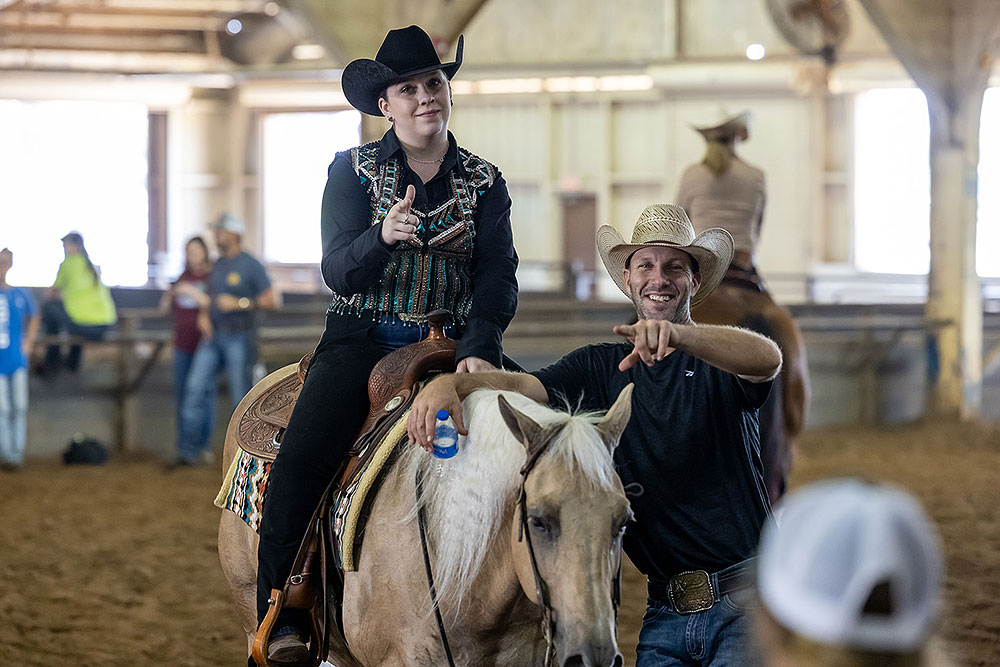 Getting involved in the sport of reining is an exhilarating experience, but it can be intimidating if you're unfamiliar with the sport, or the equestrian world in general. Having a working relationship with an NRHA Professional will give you the ultimate resource for all things reining as you start your journey.
At first, you may find yourself asking why you need to find a professional, but think of it this way: would you want to try and build a house from the foundation up or would you rather hire someone who has the experience to do it and guide you along the process? Unless you're a contractor, you'd probably prefer to hire the job out so you can ensure that you have skilled and knowledgeable recourses helping you on your house building journey. An NRHA Professional can offer you the same guidance and assurance when it comes to your journey in the sport of reining.
Experience

— A NRHA Professional is a valuable resource. They have spent time in the industry learning about its many facets, from eligibility to current horse health care options. Looking to purchase your first reiner? Professionals have the experience and know what you need to be successful and the eye to find it all while fitting your budget.

Invested

— People who have chosen to make a career out of training reining horses must have a deep investment into the horses, the sport, and the achievements of their horses and customers. In order to be successful, they must show up every day and give 100%.

Relationships

— Professionals are well-networked within the horse industry. Looking to purchase a horse? They can tap their connections to help you find the perfect one. Relocating? Your current professional can make recommendations for a new professional in your new location. Trying to sell a horse? Professionals can spread the word quickly through their network.

A Second Opinion

— An NRHA Professional can provide a second opinion on a tough decision. Due to the nature of the industry, they can look at things from more a business point of view and less of an emotional one, which can be invaluable in certain situations.

Code of Conduct

— Every NRHA Professional must sign a code of conduct.They take an oath to commit to using ethical business practices and dealings in a professional matter and to ensure the welfare of the horse is a top priority.

Paperwork

— Professionals are there to guide you through the paperwork involved with showing in NRHA and the entry processes at various shows.
Where to Start
Ready to find a professional to help you join the reining family? Here's how.
Head to a Show.
One of the many great ways to find an NRHA Professional is to look at the show calendar, find some events near you, and take a trip! NRHA events are opportunities to make reining contacts, connect with local affiliates, and watch NRHA Professionals in action. Find the NRHA Show Calendar here:
nrha2.com/events/shows_list.asp
Find a Pro Map.
NRHA offers an interactive tool that allows you to use different search criteria to find a professional near you. It also gives NRHA Professionals a place to fill out a profile so they can provide you with more information about their program and contact information. This can be a great way to find a professional if you're feeling intimidated by going to a local NRHA show. You can find it here:
nrha.com/findapro
Online Presence.
Most reining trainers have Facebook pages or websites for their businesses. If they don't have a business account, they might use their personal Facebook page to talk about their business. An easy search can turn up a few suggestions, but another great way to use Facebook on your hunt is to join groups about reining. A simple post asking for suggestions with your location can yield you a wealth of recommendations. The reining community is always eager to help newcomers.
Word of Mouth.
If you're already involved in the equine industry, ask your farrier or veterinarian for a recommendation. Don't be afraid to ask the folks at your local tack or feed store as well. Maybe you aren't involved in the equine industry just yet but have friends who are. Ask them if they have any recommendations.